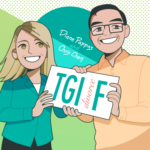 Episode 5 – What Does Child Support and What Does it Not Cover? – Attorney Teresa Reade
Do you know what child support is supposed to cover and more importantly, what it does not cover? Attorney Teresa Reade, Reade Law Firm, PC in Peabody, MA, leads an eye-opening episode on the different costs of raising children and offers suggestions to addressing them in your agreement. According to the MA Child Support Guidelines, child support is meant to meet the child's survival needs, typically defined as food, shelter and clothing. But, if you are a parent, you know that there is much more to raising a child than just the costs associated with the basic levels of living. Unfortunately, the guidelines do not specifically address how to handle 'extracurricular' expenses so it is typically left to the negotiation of the parties.
Attorney Reade highlights looking at the history of how certain expenses were handled in the past. For example, was summer camp always a part of the child's life? If yes, then the parents would need to agree on how to split this expense. If it creates a hardship for the lower wage earner, then the other parent needs to decide if they want to cover 100% of that cost.
All the other expenses for the children should be analyzed categorically and in great detail, to establish who will pay for them and in what percentage.
It boils down to how much disposable income there is to cover the expenses over and above those covered by child support and being able to make tough decisions when money is tight.