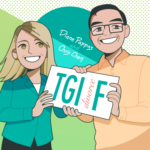 Episode 7 – The Intersection of Alimony and Child Support – Attorney Catharine Blake
What makes a case an 'alimony case' and what effect does alimony have on the calculation of child support? Not every case is an alimony case, but what do the courts look at to determine if there is a need for both alimony and child support? Attorney Cate Blake at Atwood & Cherny, PC, Boston, MA, breaks it all down for us, by first reminding us that alimony is for the support of a spouse who has a need, along with a spouse who has the ability to pay. We typically see both alimony and child support, when there is enough income to cover both types of support (gross combined income over $400,000) but more specifically when there is a significant disparity between the parties' incomes and there is a documented 'need' for additional support in the form of alimony.
Establishing need can be accomplished by accurately filling out the MA Financial Statement and documenting all of your living expenses and those of the children. Many people do not take the time to fill out the financial statement or they find it very overwhelming, but it is one of the most important documents in the divorce process. Need can also be linked to the marital lifestyle enjoyed during the marriage, which again, can only be documented by listing all the marital expenses on the financial statement. A person's spending through the year forms the basis of his or her need.
According to the guidelines, there are a couple different ways to calculate support. The goal is to find a calculation that is economically fair for the parties and the family. Be sure to watch this episode to help you understand what type of support you might be able to expect in your particular situation.